The most innovative roof fall protection equipment in Toronto
Delta Prevention was proud to exhibit its lineup of roof fall protection guardrail at the 2018 Partners in Prevention
Hosted by Ontario's health and safety regulation organization, the Workplace Safety & Prevention Services, the Partners in Prevention is the #1 health and safety trade show in Ontario. With more than 400 exhibitors, it is the top gathering for OHS professionals to discover new solutions. This is why Delta Prevention was thrilled to exhibit at the PIP for a third consecutive year. Here is what we brought to the show.
Roof Fall Protection: Guardrail System With New Anodized Finish
Delta Prevention's main product is its innovative roof guardrail system that uses a patented recycled-rubber base. Using lightweight and corrosion-resistant aluminum railings, the crowd in Toronto could see the new anodized finish, a first in Ontario. Delta Prevention's roof guardrails come in two configurations that can easily be used together to create the ultimate roof safety railing.
Roof Fall Protection: Temporary Freestanding Guardrails
With the increasing emphasis on safety during maintenance and construction work, we decided to come up with a simple and effective solution to help contractors work safely. The VSS compact freestanding guardrail is often used as a permanent protection but it is also very effective as a temporary guardrail. Deployed in minutes, and can serve both on construction sites, with its cost-effective and versatile toe board but also as a very safe and easy to install snow chute during the winter season. As with all Delta Prevention product, it is non-penetrating, meaning it will never damage the roof membrane.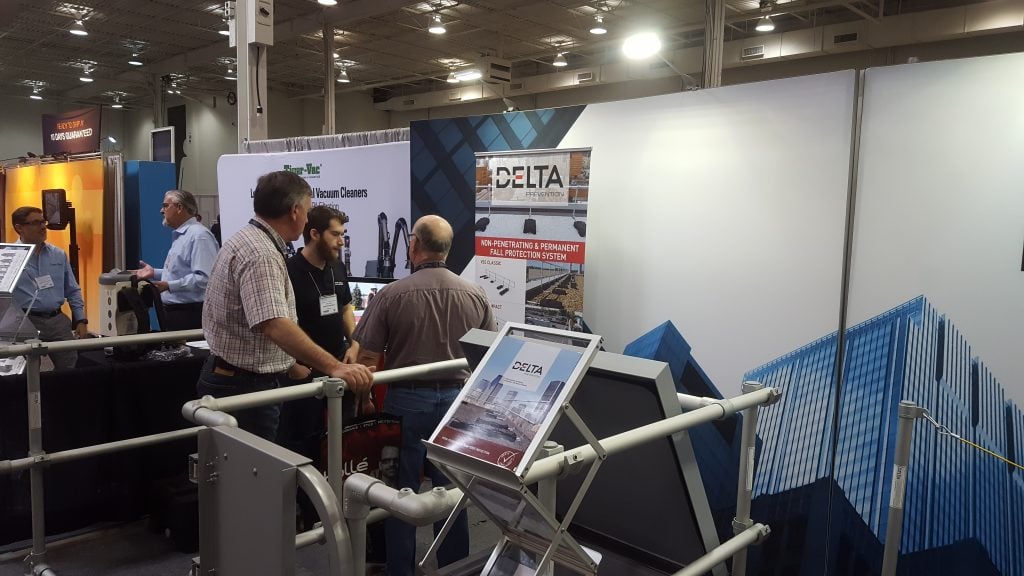 Roof Fall Protection: Roof Hatch Safety Rail
The latest product from Delta Prevention is designed to increase safety during the use of very popular roof hatches. As with every Delta Prevention product, the roof hatch guardrail uses lightweight, rust-resistant aluminum and the whole assembly clamps on the hatch without damaging it.
Interested in Delta Prevention's roof fall protection equipment in Toronto and Ontario ? Contact us now to discover the distributor nearest you.