Temporary Freestanding Handrails
The Delta Prevention temporary guardrails are extremely durable and can be installed very quickly. They are ideal for ensuring safety on a construction site or on the site of a short maintenance. Does your temporary guardrail meet the standards in force? Ours, yes!
Features:
No perforation of the surface is necessary

Ultra-lightweight aluminum pipes

50 lb high adhesion recycled rubber base

Can be installed with a minimum of tools

Ultimate resistance to rust and corrosion

Easy deployment and quick handling

Compliance report included

Made in Canada

Meets NBC, OBC, OSHA standards

Our roof fall protection products are certified by an independent engineering firm and meet CNBC and OSHA standards.
With our patented recycled rubber counterweight base and aluminum components, our system offers ultimate resistance to rust and deterioration.
Our eco-responsible products are 100% designed and manufactured in Canada.
Peace of mind thanks to the best warranty on the market.
Temporary Guardrail : Quick setup!
Thanks to the patented design of our recycled rubber bases, Delta Prevention temporary guardrails are installed in minutes with a minimum of tools. The pipes are aluminum and the bases are designed to stack easily for storage and transportation. Once on the job site, these 50 lb bases can easily be positioned with their carrying handles..
We are compliant, and you?
Do not wait for an inspector to close your job site or worse, have one of your employees fall because of a temporary guardrail that you thought was safe. Do not leave anything to chance. All of our temporary guardrails, regardless of length, meet National Building Code (NBC) and OSHA when properly installed. Each set comes with a certification report that will give you peace of mind and a construction site without annoying work interruptions.
A temporary guardrail makes you save money
Have you already calculated the actual cost of repeated installations of temporary wooden guardrails on your building sites? Beyond the losses associated with wasted wood, the worst scourge is the labor time invested in this non-productive work. By purchasing a portable guardrail package, you will save a lot of money on the materials and work time of your employees. Think about it!
Choose a collective and permanent protection
A permanent fall protection solution that ensures safety for all users without PPE or annual certification.
Railing and Vertical Post:
Aluminium 6061-T6

Ultimate corrosion resistance

No risk of peeling paint

Ultra-light for easy installation
DELTAMAX Bases:
Recycled eco-friendly rubbe

Patented design

No corrosion or rust stain on the membrane

No cracking and spilling of filling material

Very high adhesion to the roof membrane

Can be installed directly on the roof without sacrificing a membrane

Moulded handle for easy handling
Technical Data Sheet – Temporary Guardrail
| | |
| --- | --- |
| VSS Compact : minimum length | 120″ |
| Height | 42″ |
| VSS Compact : maximum distance between posts | 120″ |
| VSS Compact : Full height return | at each end and at every 40′ on rooftops without parapet |
| Counterweight: | 50 lb/base |
| Counterweight material | recycled rubber, galvanized iron |
| Railing and posts | Anodized aluminium 6061-T6 |
| Railing and posts – outside diameter | 1,9″ |
| Fittings- material | galvanized steel |
| Hardware: | stainless steel |
| Tightening torque : | 30 lb/pi (CL201: 20 lb/pi) |
| Compatible with VSS SafetyLine Line | yes |
| Use: | permanent, temporary |
| Design patent: | #162620 |
| Complies with: | CNESST: 2.9.2, 3.8.2 – CNBC: 4.1.5.14 – OSHA: 1926.502, 1926.501 – Ontario Building Code: 4.1.5.14 – WorkSafeBC: 11.2 |
| Warranty: | 10 years |
Accessories – Temporary Guardrail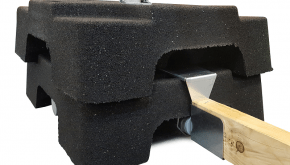 Toe board – VSS COMPACT
# ITEM : KPCPB
Material : Aluminium
The kick plate prevents tools or other accessories from accidentally falling off the roof when there is no parapet.
QUOTE REQUEST
Tell us about your project! Our technical team will contact you in 24-48 hours.
Delta Prevention is the first manufacturer to offer you a collective and eco-conscious fall protection system. Our products are made of recycled rubber from clean energy using locally sourced materials.