The unrivaled flexibility of fall protection railings!
The undeniable proof of the versatility of the Delta Prevention guardrail system.
With its unique counterweight base and numerous clamp connectors, the VSS System from Delta Prevention is customizable to any type of roof and adaptable to all obstacles. The fall protection railing designed for this building located in the Old Montreal is an undeniable demonstration of that.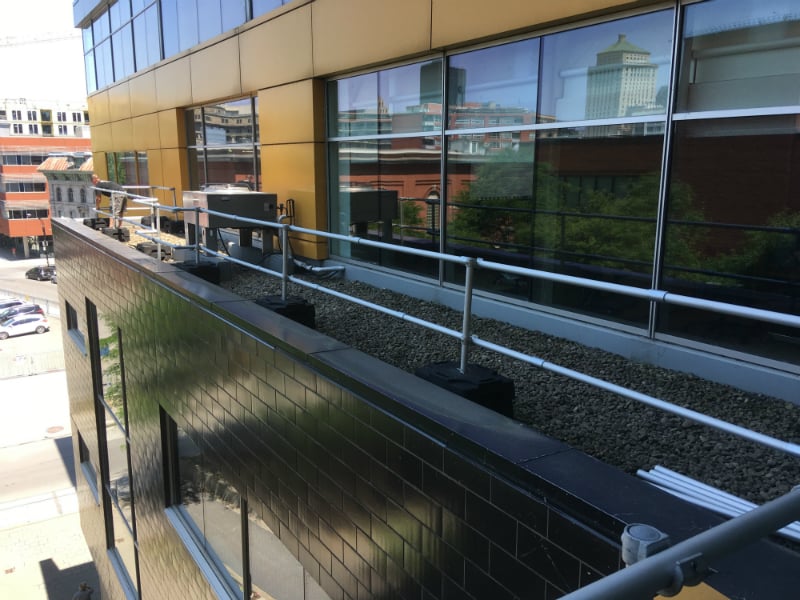 Meeting the Standards
The Canadian building code and the OSHA states that any building of 10' or more must be equipped with a fall protection system to protect workers and visitors on the roof. With a HVAC unit installed within inches of the roof edge, the maintenance was a very risky operation on this building. In fact, even accessing the equipment meant walking on a narrow pathway that is within the 6' (2 m) control zone.
A Durable and Collective Solution
To secure the access and the surroundings of this HVAC unit, the specialists at Permacces used both configuration of the VSS System: The VSS Classic and the VSS Compact. The VSS Compact was initially favoured for the narrow footprint of its design. However, it also requires a full height, 60'' return on both ends to create the necessary rigidity. Therefore, both extremities of the section were designed with the VSS Classic configuration. This configuration doesn't require a full-height return and uses the least space, especially when the counterweight bases are positioned perpendicular to the post. This flexibility is unique to Delta Prevention.
But a HVAC unit positioned so close to the edge also conflicts with the horizontal railing. The customizable nature of the Delta Prevention non-penetrating system, as opposed to ''fixed length'' alternatives, makes it easy to go around the HVAC unit to create a perfect fall protection perimeter.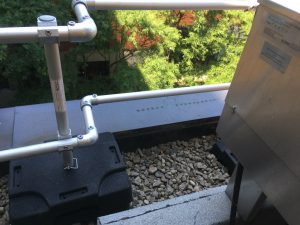 Visit our web site to learn more about our products and discover the multiple advantages of the Delta Prevention guardrail system.
Delta Prevention is a manufacturer of non-penetrating fall protection equipment for rooftop. With innovative materials and industry leading versatility, Delta Prevention's VSS System is the safest and most durable collective fall protection system on the market. Visit our website at deltaprevention.com