Thanks to the very high versatility of the Delta Prevention product range, it is always possible to safely remove snow from your roof, even when the parapet is particularly high. This was proven by the Permaccès work at height specialist by creating, for a client, an ingenious snow chute that complies with the Occupational Health and Safety Regulations (OHSR). "Employees removing snow from the roof must cross the parapet to dump the snow. Here, the parapet can be more than 40 inches high," says the Permaccès engineer. A master in the art of developing customized solutions, the Quebec City-based company presents current industry practices and the method it recommends.
Option °1 : A snow ramp
The simplest, but not safe, method for clearing snow from a flat roof with a parapet is to create a snow ramp in front of the freestanding guardrail. The ramp allows you to cross the parapet and push the snow effortlessly. However, this technique should be avoided at all costs, as the employee removing the snow will be in danger of falling when standing at the top of the ramp. In addition, the ramp will quickly become icy and will become a risk of falling and injury.
Option °2 : A wooden ramp on the guardrail
Workers removing snow could build a wooden ramp and place it on the intermediate rail of a properly sized guardrail. Delta Prevention roof freestanding guardrails are strong enough to support a wooden railing. More honest and less slippery than a snow ramp, a wooden ramp on the rail will be very unstable and could easily slide backwards, exposing the worker to a definite risk of falling, especially when he is at the top of the ramp. In addition, the angle of the ramp on the intermediate rail is rarely ideal.
Option °3 : Raised guardrail and fixed ramp
Permaccès has created a raised guardrail that offers 42″ protection even when the worker is at the top of the ramp. A ramp, in two sections and specially designed for this application, is firmly attached to the lower rail of the guardrail, eliminating the risk of slipping. Additional counterweight bases have been added to the structure to meet the OHSR point load standard, even with the guardrail raised. 
The result: a custom-made snow chute for this 100% perforation-free and safe high parapet roof! 
Are you interested in this configuration? Ask our customer service or contact the specialists at Permaccès.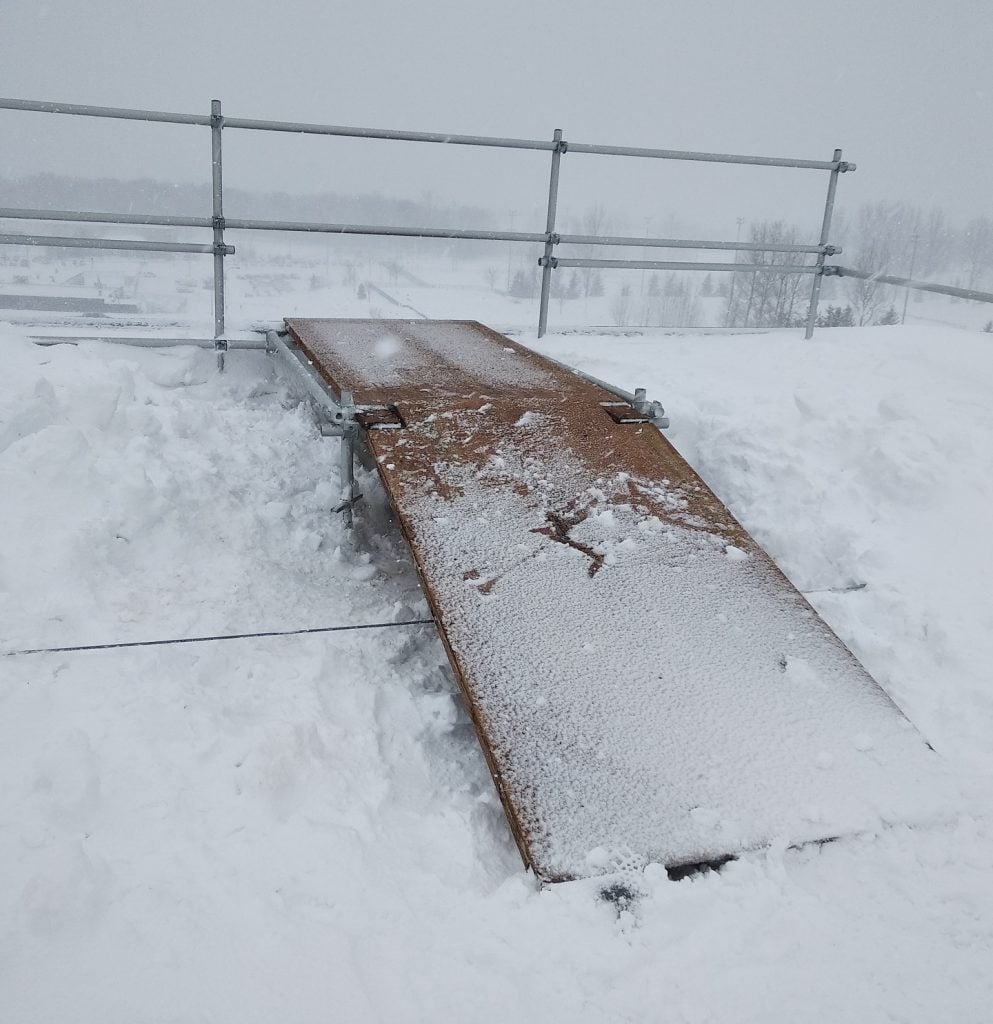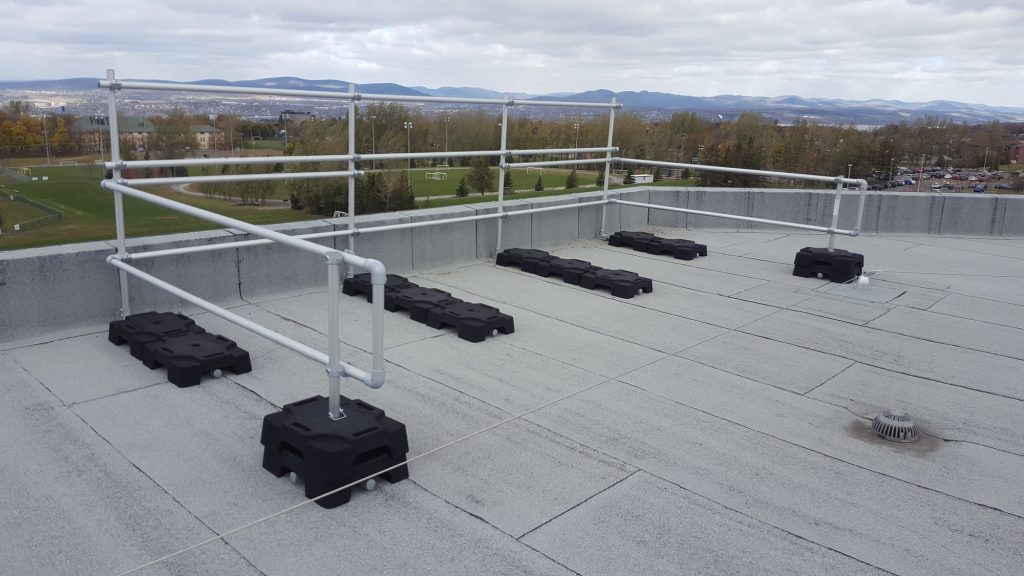 Delta Prevention is a manufacturer of non-penetrating fall protection equipment for rooftop. With innovative materials and industry leading versatility, Delta Prevention's VSS System is the safest and most durable collective fall protection system on the market. Visit our website at deltaprevention.com