Rooftop Fall Protection in Ottawa
Accessing the rooftop of a building is a necessity for any job that requires maintaining or repairing buildings. Workers need to be well protected to avoid unfortunate accidents when working from heights. Rooftop fall protection in Ottawa is mandatory to prevent the risk of falling for anyone in the vicinity.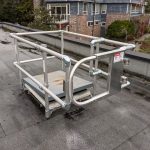 What rooftop protection systems will I need?
We offer versatile and passive rooftop fall protection in Ottawa to eliminate falls from heights. So whether you're working on a flat roof or a sloped roof, the risk of falling is always present if adequate protection is not set up. There is always a severe risk of injury or death when your team works on a roof more than 10 feet high without protections.
Some of our more popular fall protection systems include:
Guardrail systems act as visual warnings and prevention barriers to block workers from getting dangerously close to the ledge thanks to a barrier protection. Modern rooftop guardrails systems are versatile and can be configured to your needs as they are modular and non-penetrating.
Each protection equipment can easily be installed. Made with a thick recycled rubber base and a sturdy aluminum rail, our rooftop guardrails are designed to withstand even the harshest weather.
Roof warning line systems
Installing roof warning line systems allows you to delineate your work area while acting as a visual reminder to those who need to stay vigilant to avoid fall-related deaths. Affordable and easy to install, this self-supporting system can easily be moved as necessary to reinforce rooftop perimeters and delimit work zones.
To prevent workers and occupants from death on construction sites, we also install other various passive rooftop fall protection systems in Ottawa, including:
Why Choosing Delta Prevention for your Rooftop Fall Protection in Ottawa?
We prioritize keeping Canadians working at heights safe from hazards by building compliant rooftop fall protection systems.

We guarantee sturdy and robust rooftop protection systems that will not deteriorate or fall apart during the harsh Canadian climate. However, if you've had it for 10 years or less, we will cover any manufacturing defects.
NBC and OSHA compliant standards
Canadian law mandates that all rooftop workers are adequately protected when working. Our levels of safety include rooftop fall protection systems that respect the NBC and OSHA standards, so you won't have to worry about being fined by authorities.
Trusted experts in rooftop fall protection in Ottawa
Our eco-responsible products are 100% designed and manufactured in Canada.
Made of a patented recycled rubber base and aluminum railing, our systems are made to resist rust and corrosion. 
Contact Delta Prevention for your rooftop fall protection in Ottawa
Choose our rooftop fall protection in Ottawa
A permanent fall protection solution that ensures safety for all users without PPE or annual certification.
Tell us about your project! Our technical team will contact you in 24-48 hours.
Delta Prevention is the first manufacturer to offer you a collective and eco-conscious fall protection system. Our products are made of recycled rubber from clean energy using locally sourced materials.