Warning Line System in Vancouver
Delta Prevention provides warning line systems in Vancouver. It serves as a visual reminder of a defined work area. The line systems mark places that may turn out to be dangerous for workers and visitors of the roof. 
Delta prevention's equipments are built to last and complement the traditional fall protection systems. We deserve Canada and the United States with all our passive fall protection equipments.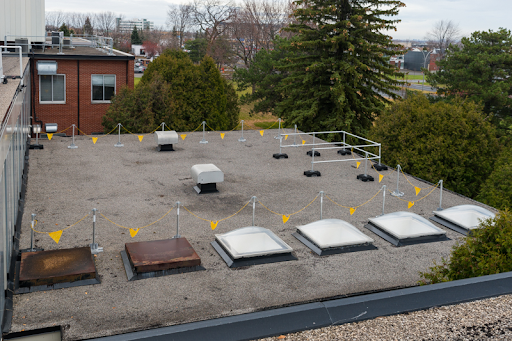 What is a Warning Line System?
Warning line systems are barriers erected on surfaces, roof sides, or edges to warn employees or contractors, that they are approaching an unprotected and unsafe zone. 
A warning line system may also indicate an area on a given surface such as the roof, where an activity may take place without using a body belt, safety net systems, or guardrails to protect employees in a specific area.
Importance Of Warning Line Systems
A warning line system refers to a barrier on a roof to guarantee the safety of employees. These lines may clearly show you that you are approaching an unsafe zone from a distance, most probably an edge or side of the roof. 
They technically play a major role in protecting everyone from fall and other hazards within a designated working space. There are two types of warning line systems, and each has its role to play in safety.
Why Choose Delta Prevention for your Warning Line System
With years in service, we have always believed in standards and quality. 
We offer ultimate resistance to deterioration and rust because of our aluminum components and patented recycled rubber. 
All our eco-responsible products are 100% manufactured and made in Canada. 

With our ten years of warranty on our products, we are sure to give our clients the peace of mind necessary while at work.
Easy to install and maintain
All our systems are well-thought-out, easy to install and last for several years.
Temporary Warning Lines System
These warning lines are much lighter than permanent ones and are more easily torn down. The fact that you can easily move the lines around gives them flexibility over permanent lines.
Portable systems help design temporary work areas to remind you of a potential fall for example. 
Permanent Warning Lines System
Unlike portable temporary lines, permanent lines aren't fixed to a surface but use heavier base and stanchions, making them less movable than the aforementioned.Many companies use permanent warning lines as a durable visual reminder of openings and leading edges. These systems are mainly left on the rooftops, where maintenance work needs to be done.
Contact Delta Prevention for your Warning Line System in Vancouver
Delta Prevention is the best service provider for warning line systems in Vancouver. We give our clients very competitive offers and professionalism. With our team of proactive professionals, you are sure to have solutions to every challenge you might face, from quote to installation. 
For our services and more, feel free to contact us for passive fall protection equipments or call tel:1-844-855-4273 for assistance.
Choose a collective and permanent protection
A permanent fall protection solution that ensures safety for all users without PPE or annual certification.
Tell us about your project! Our technical team will contact you in 24-48 hours.
Delta Prevention is the first manufacturer to offer you a collective and eco-conscious fall protection system. Our products are made of recycled rubber from clean energy using locally sourced materials.